2024-2025 Discovery Map of Amelia Island
Get Discovered on the Area's Most Popular Map!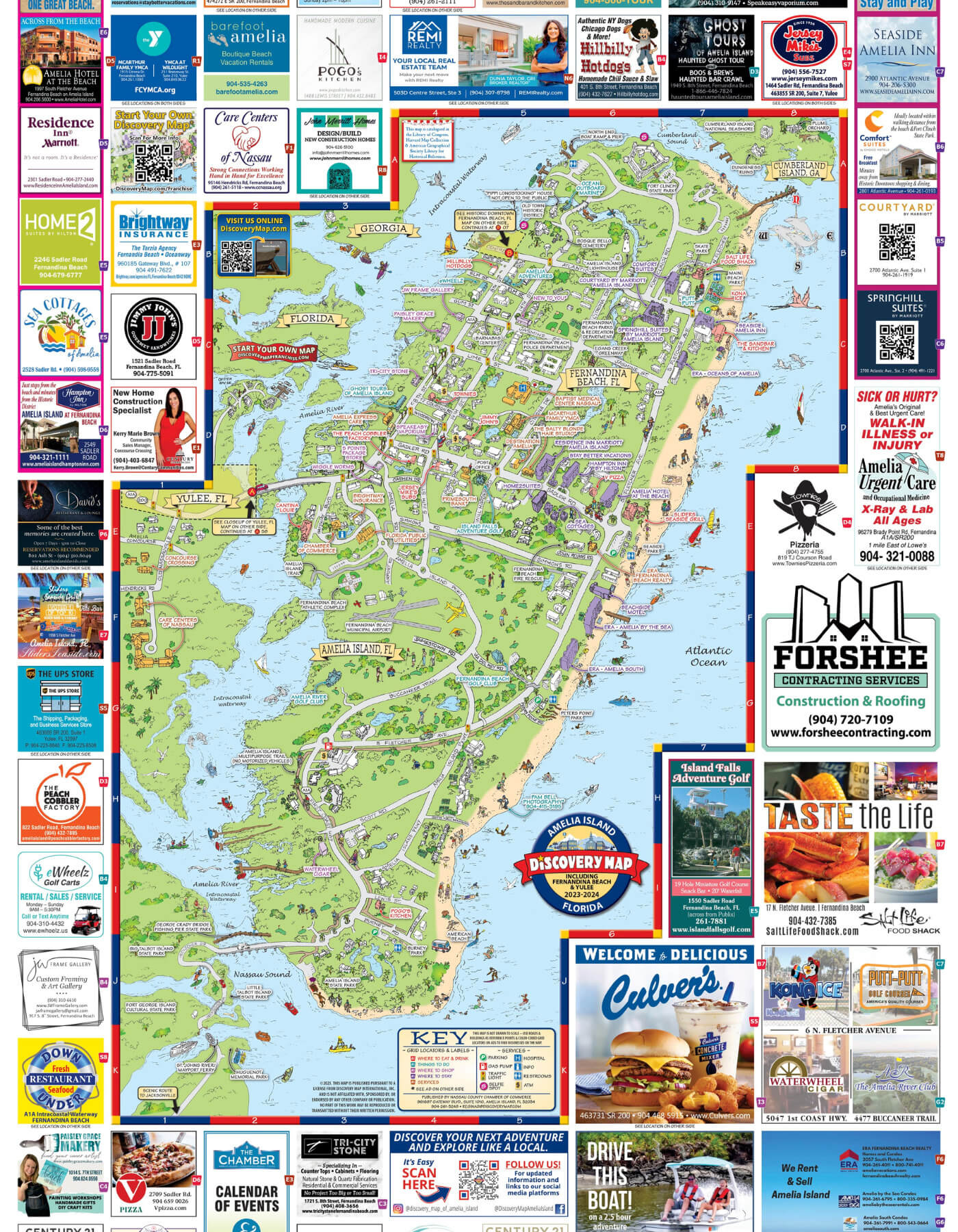 The Discovery Map of Amelia Island & Surrounding Areas is published by the Nassau County Chamber of Commerce and offers your business a multi-media advertising program that will maximize your business exposure to visitors and locals! The deadline to sign up to advertise on the 2024-2025 Discovery Map is Thursday, February 1, 2024.
Printed Map
300,000 hand-illustrated maps are distributed at more than 120 locations, including Welcome & Visitor Centers, hotels, restaurants and shops

Full color display ad designed free of charge - no hidden costs! 

Your business location drawn, highlighted and labeled on the map 

Low ad rates with easy payment options and pre-pay discounts 
Embedded Web Map
Our fully interactive WebMap can be embedded on any website or Facebook business page for FREE 

Put your business front and center when the map loads on your page

Discovery Maps are embedded on more than 700 sites and viewed more than 3.5 million times annually at DiscoveryMap.com
DiscoveryMap.com
The Discovery Map digital guide is compatible on any desktop, laptop, tablet or smart phone 

You control the content through your Facebook fan page

Include photos and videos 

Area events, specials and more 

Extra online advertising options are available for even more exposure 

Qualified, focused visitors view more than 100,000 pages per month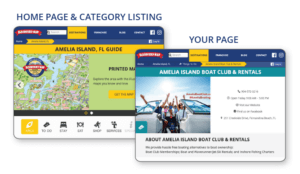 Mobile Map Viewer
The interactive WebMap is available for free through the Apple and Android App Store (Keyword: Discovery Map)

Search businesses by category or map geography 

Location awareness services (GPS)

Tap sensitive labels 

Link to your website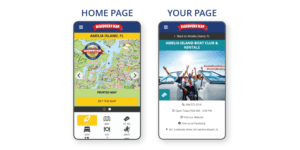 Get on the Map!
Your business will receive a full year of targeted, repeated exposure to people who want to find you at a price that's affordable. The deadline to sign up to advertise on the 2024-2025 Discovery Map is Thursday, February 1, 2024. Click below to fill out the 2024-2025 Discovery Map Advertising Form and sign up directly through our site! For questions or additional information about advertising, please contact the Nassau County Chamber of Commerce at info@NassauCountyFLChamber.com or (904) 261-3248.
"We love using The Discovery Map of Amelia Island. We see our guests use the map to plan their day which includes us. They see we are on the beach and will plan their lunch or dinner with us. We also display them here and it is a great value for our guests while they are waiting. Many guests get a chance to see what else is available to do and see on Amelia Island and while they enjoy a great meal here, they decide what to do with the rest of their day. It's a win win."
- Marcos Jovel, Salt Life Food Shack
"Discovery Map is a great way for tourists to understand the island. It is always the first thing we grab when welcoming and showing all the 'go to' places to new guests."

- Florida House Inn
"Being downtown, we see very diverse groups of tourists- young and old, from near and far. The one thing they have in common, is they all pick up a Discovery Map. People enjoy the ease of use, the small size, and as a business that is a little bit off the main path, I love the way it sends people down the street to my store. Even in today's digital age, people still love to use a physical map to plan their visits to Amelia Island."
​- Theresa Duncan, Villa Villekulla Toy Store
"Our guests love these maps! We have one framed in our front lobby, and everyone asks for one after looking at it. They are so helpful in showing our visitors how to navigate the island, and how to find certain landmarks. The detail that has gone into these is really fantastic!"

- Amelia Hotel at the Beach