Business Resource Innovation Center (BRIC)
The BRIC, short for Business Resource Innovation Center, functions as a shared workspace that fosters collaboration among Chamber of Commerce members. Equipped with private offices, a modern conference room, office supplies, a copier/printer/scanner/fax machine, and a well-stocked kitchen with snacks and coffee, the BRIC provides all the essential amenities for our members.
Collaboration
Work around fellow Chamber of Commerce members and make connections that will help grow your business
Privacy
Close the door to one of the private office pods and work without any outside distractions
Efficiency 
Connect your laptop to one of our computer monitors in the office pods and work on dual computer screens
Professional
Meet clients in our state-of-the-art conference room, with seating for up to 10 people and video and teleconferencing capabilities
​Services Available at the BRIC:
​Meeting and conference space

Video and teleconferencing capabilities 

Access to mentors from organizations including SCORE Jacksonville and the Small Business Development Center 

Private work stations/offices 

Strong and secure WiFi

Networked printer/copier/scanner/fax
Paper shredding

Adjustable desks and comfortable seating

Charging stations 

Office supplies and tools

Unlimited gourmet coffee, tea, water and snacks

Notary services

 
Interested in Booking the BRIC?
The Business Resource Innovation Center (BRIC) is available at no charge for every member of the Nassau County Chamber of Commerce; non-members can expect to pay a daily/weekly/monthly rate in order to use the space. To book the conference room, receive non-member rates, or for any other questions, please contact the Nassau County Chamber of Commerce at (904) 261-3248 or info@NassauCountyFLChamber.com.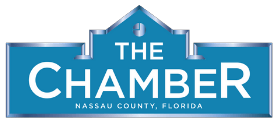 ​Nassau County Chamber of Commerce
961687 Gateway Blvd., Suite 101-G
Fernandina Beach, Florida 32034
​(904) 261-3248