Help Hungry Howie's Fight Breast Cancer One Pizza at a Time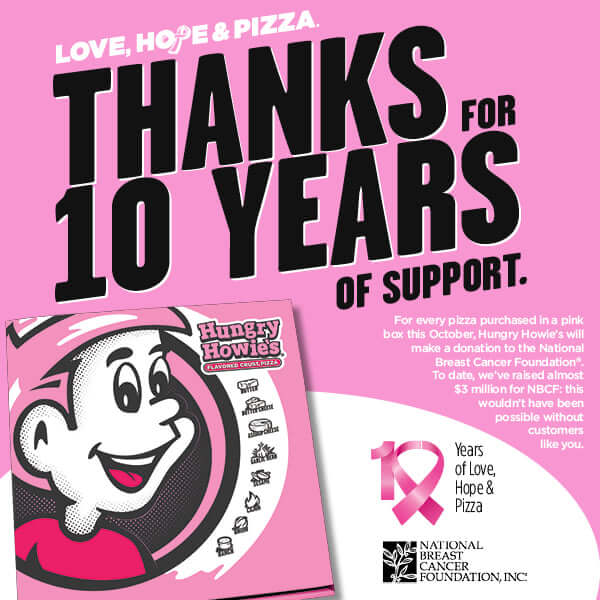 October is a month of transformation, not just in the colors of autumn leaves but also in the spirit of giving and awareness. At Hungry Howie's, we believe in making a difference in our community, and one of the causes closest to our hearts is the fight against breast cancer. This October, we invite you to join us as we embark on a journey to support the National Breast Cancer Foundation.
**How Can You Contribute?**
Every pizza you enjoy at Hungry Howie's during the month of October will make a meaningful impact. We are committed to donating a portion of all pizza sales to the National Breast Cancer Foundation. So, every delicious bite you take helps us make a difference.
But that's not all; we invite you to go above and beyond by contributing directly. Any donation, big or small, is welcome. When you donate $1 or more, we will proudly display a Breast Cancer Awareness pizza slice on our lobby wall with your name on it. It's a way for us to celebrate your generosity and unity in this fight.
**Our Ongoing Commitment**
At Hungry Howie's, we are proud to say that we've been part of this fight for a long time. To date, we've donated over $4 million to the National Breast Cancer Foundation. Together with your help, we can continue to make a difference and contribute to finding a cure for this devastating disease.
**Let's Fight Together on a Full Stomach**
The battle against breast cancer is not just a medical fight; it's a fight that requires the support, unity, and love of a community. By enjoying our delicious pizzas and making a contribution, you're not only satisfying your cravings but also nourishing the hope for a future free of breast cancer.
So, this October, join us at Hungry Howie's in our mission to help those affected by breast cancer. Together, we can make a positive impact and bring us one step closer to a world where no one has to suffer from this disease. Help us fight breast cancer one pizza at a time!
Thank you for being a part of this important cause. Together, we can make a difference.