University of US Announces Class Enrollment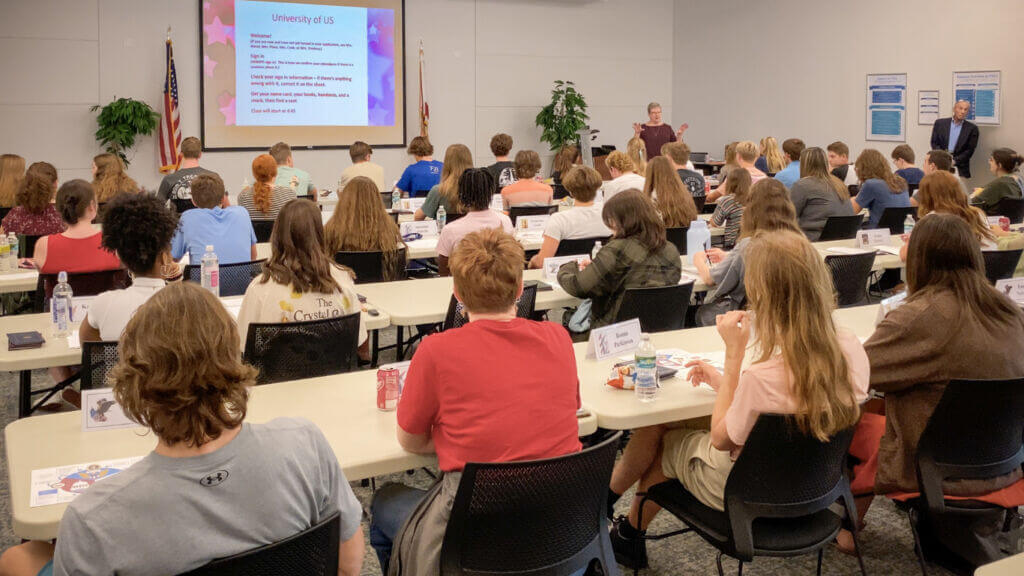 Fernandina Beach, FL/August 21, 2023 – The U.S. Constitution Scholarship Foundation (USCSF) is proud to announce enrollment in the University of US program for the 2023-24 school year.
The University of US (UofUS) is an after-school program designed to boost student knowledge of the U. S.
Constitution to a higher level. Over the course of the school year, Nassau County high school juniors and seniors participate in classes led by locally and nationally renowned instructors on topics related to the Constitution.
Graduates of the UofUS program are eligible to enter the U.S. Constitution Scholarship Foundation's essay competition for which the top winner receives $10,000, and four students each receive $5,000 scholarships. Any student who graduates from UofUS and submits a qualified essay receives $200. In the last school year, students earned a total of $48,000 in awards. UofUS 2023-24 graduates are also eligible to compete for scholarships and awards in the annual Constitution Bowl held in April 2024.
CLASS SESSIONS AND INSTRUCTORS FOR 2023-24 INCLUDE:
Our American Heritage and Founders of the Constitution – Judge Adrian Soud
The Federalist Papers – Howard Pines and Caleb Bryan
Articles of the Constitution – Judge James Daniel
Amendments to the Constitution – Secretary of State Cord Byrd and Judge Steven Fahlgren
Important Supreme Court Justices – Professor Bradford Clark
Notable Supreme Court Cases and The U.S. Judicial System – Judge Jenny Higginbotham
LOCATION – Classes will take place at FSCJ Nassau Center's Nassau Technical Career Center ("Bean" Center), The Nassau Room (T-126). The first class will be held on September 25 at 4:45pm.
ORIENTATION – An Orientation to the program will be held at FSCJ on September 18 from 6:00 – 7:00 PM
FINAL EXAM – Will be taken on the last day of class following the class session on March 25
SCHOLARSHIP APPLICATION AND ESSAY:
Information regarding the scholarship application will be distributed in October. Due Date: March 25, 2024
ENROLLMENT:
Nassau County high school students can apply for the UofUS online at www.uscsf.net/university-of-us or by emailing universityofus2024@gmail.com
ABOUT USCSF:
The U.S. Constitution Scholarship Foundation is a non-profit educational and scholarship organization dedicated to increasing knowledge and understanding of the U.S. Constitution. Since inception in 2016, USCSF educational programs have delivered over $250,000 in scholarships and awards to high school juniors and seniors in Nassau County, Florida. Visit www.uscsf.net for more information.